THE MEDICAL FORGE
BRIDGING THE GAP BETWEEN STARTUPS AND CLINICS
The Medical Forge Leipzig supports startups and innovative companies to bring their medical products faster to the German healthcare market. The customized 12 months program focuses on the specific needs of young medical technology companies.
Our extensive network including hospitals, health insurances and experienced industry partners will provide you with invaluable insights and project opportunities.
We offer you an in-kind service bundle with an overall value of 185,000 Euro including coworking laboratories, offices and electronic workshops, as well as personal consulting, mentoring, and much more. You have to provide 21,000 Euro of your own capital. However, you will receive a 25,000 Euro team budget during the program.
Forge your way to the healthcare market with us!

MEDTECH INNOVATION AT THE HEART OF EUROPE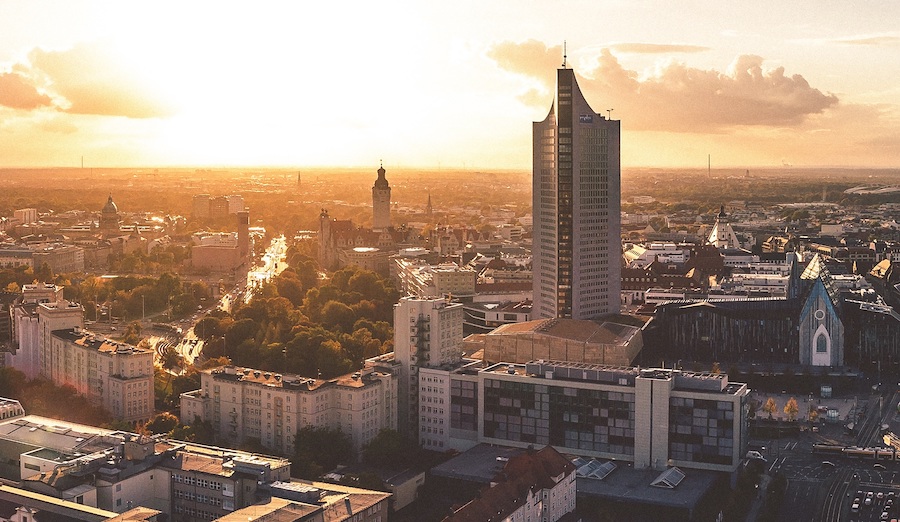 Leipzig is one of the fastest growing cities in Germany and the EU with currently 600,000 inhabitants. The metropolitan region has about 2.25 million inhabitants.
Leipzig is one of the most popular student cities and its universities count about 40,000 students annually including a large medical faculty.
Due to its central location at the heart of Europe, Leipzig has excellent logistics connections including Germany's second largest air freight hub.
The Medical Forge is located at the BioCity Campus, a centrally located commercial area dedicated exclusively to life science companies.
Learn more at leipzig-for-lifechangers.com


Coworking Office
Ca. 300 m² prefurnished offices, meeting rooms and kitchen

Coworking Laboratory
Ca. 150 m² wetlabs incl. 2 bioboxes for cell and microbiological tasks

Coworking Workshop
Ca. 150 m² full electronic workshop and hardware equipment incl. 3D printer

Startup Bonus
Up to 25,000 Euro virtual grant for external services

Coaching & Mentoring
Experienced industry experts as sparring partner for regulatory and business issues

Seminars & Workshops
Customized seminars focussing on regulatory affairs for medical products

Networking & Events
Integration into supraregional industry network with over 120 members

Clinical Partnerships
Opportunity to start clinical pilot studies, to gain database access and to receive user feedback

NOTHING IS STRONGER THAN
AN IDEA WHOSE TIME HAS COME

You want to increase your innovative capacity and get premium access to the newest medical technology? You are looking for international cooperations to improve healthcare in Germany?
Get in touch with us to talk about how you can become part of our partner network.

OUR CUSTOMIZABLE CURRICULUM FOR YOUR STARTUP
Regulatory Affairs
The long way to the German healthcare market
Quality & Risk management of medical products
Approval process according to the EU MDR
Clinical studies from a legal and regulatory perspective
Health Economics
Reimbursement systems of the German Healthcare market
Funding programs for medical innovations
Sales in Life Sciences
Crowd Funding for medical products
Business Elements
Design Thinking Workshop
IP Rights and Licensing for startups
Pitch Training
Project Management
Individual coaching and mentoring, potential clinical pilot studies and
feedback by medical experts offer additional insights

Incorporated startup or innovative companies
Innovative medical device with proof of concept
Highly motivated, skilled and diverse team
Fit with the interests of our gold and silver partners
Sufficient financial capital to set up a legal entity in Germany
Willingness to move to Leipzig
Willingness to participate in workshops
Fluent in English and / or German

You've got what we are looking for? Then ignite your light at the Medical Forge Leipzig and apply today!
Please submit your application on f6s. It allows us to integrate our partners in the evaluation and selection process and provide you with direct feedback on your application.

APPLY NOW TO FORGE YOUR WAY TO THE HEALTHCARE MARKET
26.11.2023
Call for
applications
Send us your convincing
application and pitch deck.
08.12.2023
We are looking for you
at different events.
Preselection
by the board
International
Scouting
Our board of industry and medical experts
selects the top 15 applications.
01.04.2024
Selection Day
Convince the board with your
pitch and win one of the 8 spots
in the program.
Program Start
Start your journey with us.
14.12.2023

Apply by November 26th 2023 to become a part of our third batch starting in April 2024.
Let's forge your way to the German healthcare market together.

CONTACT US
Contact us directly or
use the non-binding
contact form.